A list of 18 goals / to do's / wishes / actions / (call it what you like) for my 2018.
–
---
.
1) Gain some lost muscle back.
I was so slack in the resistance training department in 2017. I'm sure I have lost some lean muscle. It's time to get it back.
I commit to doing at least 2 x week, full body resistance training sessions.
Ideally I would LOVE to find a gym buddy to weight train with. I enjoy cardio by myself with something to listen to in my earphones, but with my resistance training, I love to do it with a friend. When I look back on my past, I was in the best shape when I had a weights buddy.
Oh and just to clarify. Gaining muscle does not equate to a bulky look. I simply want to regain a firmer look and feel that I had a few years back. Regular resistance training is the best way to achieve this. 
–
January – 2 measly gym sessions done 🙁 . No gym buddy found. Too busy moving house (excuses, excuses) 

February  – Regular weights sessions completed this month. Yay. No big changes to how I look or feel as yet, but I know building muscle is a long term game. And I am certainly taking the long and slow turtle approach 

March April and May = fail. My heart just isn't in it. I'm letting this one go for a while, instead of beating myself up with guilt and force. I will re-address it later in the year. Spring-time sounds good. 🙂

June – Letting go of this goal and taking some pressure off was just what I needed. I have joined a new gym and I am enjoying being a class participant again. Turning my brain off and letting my body do the talking. Its very early days yet, but I am feeling so much more fired up about all of this. Bring on July and August for some regular sessions and results. 
–
---
.
2) Continue doing fun, active stuff.
Golf lessons and games, regular hikes with friends, bike riding, swimming in my new pool, morning walks, etc.
January  – walks, swims, golf (even got a new set of clubs). No hikes or bike rides as yet.


February  – golf lessons continuing. I am also participating in a fitness class once a week and loving it. I really enjoy being a participant again. Turning my brain off and simply following instructions. Pushing my body a bit harder than I would on my own. Morning walks as always. Some swims too. (By "swim" I mean splashing around, not doing laps) 

March and April

–

Sublime point stairs numerous times. 5km Park run a few times. Mt Annan Botanical gardens walk too. Yay.

 

May

–

Sublime point stairs again. Yes its my favourite. PLUS I climbed the Sydney Harbour Bridge with my hubby to see the vivid lights. Absolutely AMAZING!!

June – Winter has hit and I was a bit slack with this goal. Lots of walking as usual, but nothing fun and out of the ordinary. I do have a hike planned for Sunday, but that will be July.
–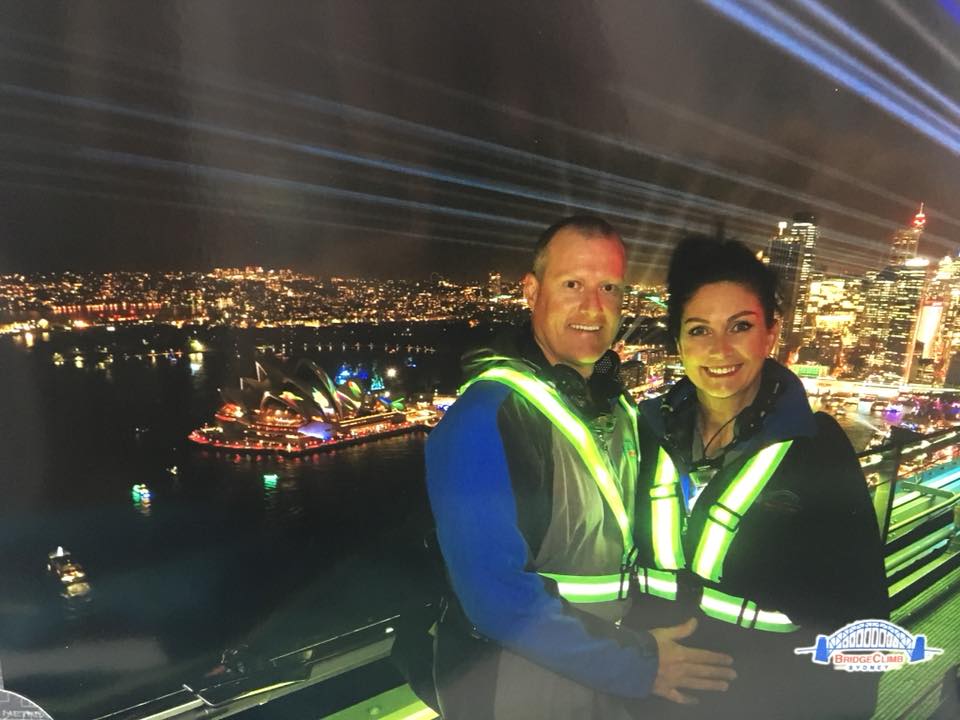 –
---
.
3) Regular creative classes
Painting, jewellery making and simply keeping an eye out for new creative learnings that take my fancy.
I did some creative classes in 2017, which I thoroughly enjoyed. I would like to continue and do even more.
January  – nothing to report. 🙁 

February – Attended a beaded jewellery class at The Bead Room Chipping Norton.

I am also enjoying decorating my new house. Simply pottering around and moving items here or there. It really is the little things in life that make me happy. 

March  and April – beading, crocheting (the poncho that I started last Winter might be finished by this Winter. 😉 

May – Crochet, beaded lava bracelets (very cool) and Holly and I tried our hand at fluid painting. I wont say it was a complete success. But it sure was a fun day. 

June – I was a bit boring during the first month of Winter. More crochet (still not finished the poncho), oh and growing celery and shallots. That counts as creative doesn't it? 
–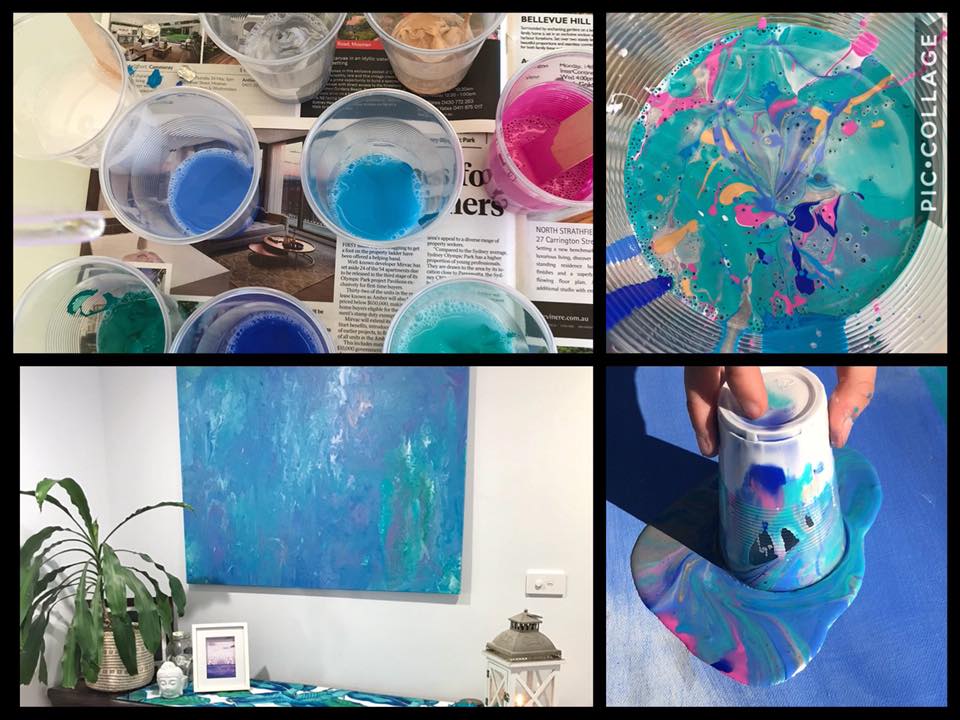 –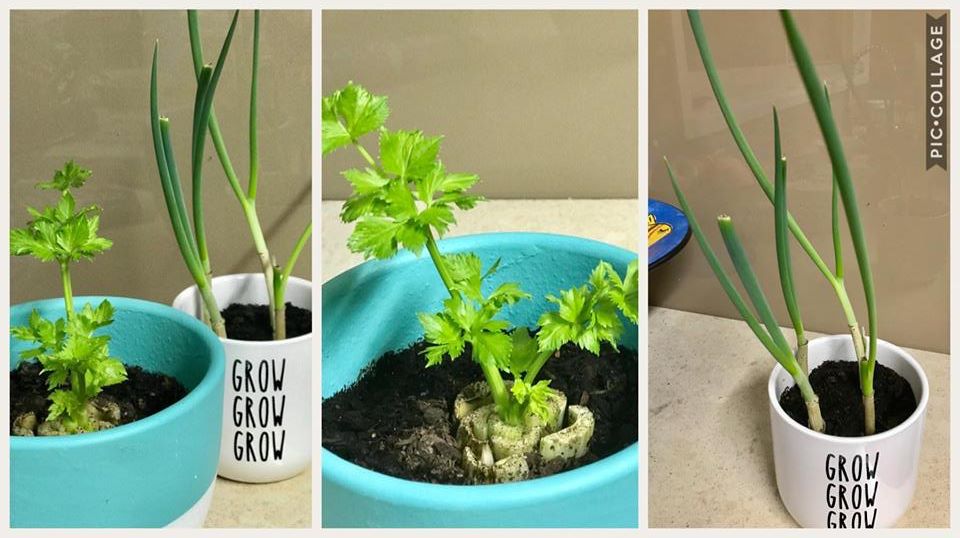 June = growing plants 
---
.
4) Move house and decorate it
We are moving house in January 2018 (same suburb). I am so looking forward to de-cluttering and living in a new, clean, clear, fresh space.
Confession – – I used to love to keep my house nicely decorated and clear, but I let that slip whilst living in my house that needed major renovations and was cluttered with too much stuff.
I am really excited about changing the environment that I spend he most time in.
I have a theme for the new house style… TROPICAL CHIC.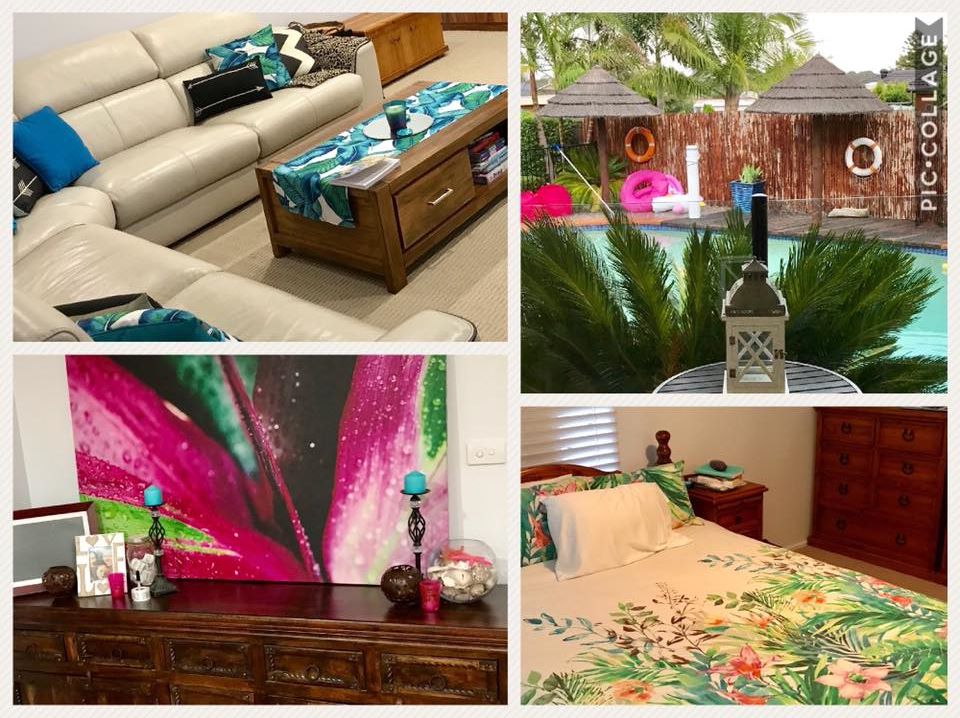 January update – MOVED HOUSE !! Yay. (This is why not much of anything else got done)
–
---
.
5) Go somewhere NEW each month
I have done this in previous years, its great. Gets me out of my rut. It doesn't have to be anywhere fancy. Maybe a new walk, restaurant, café or market.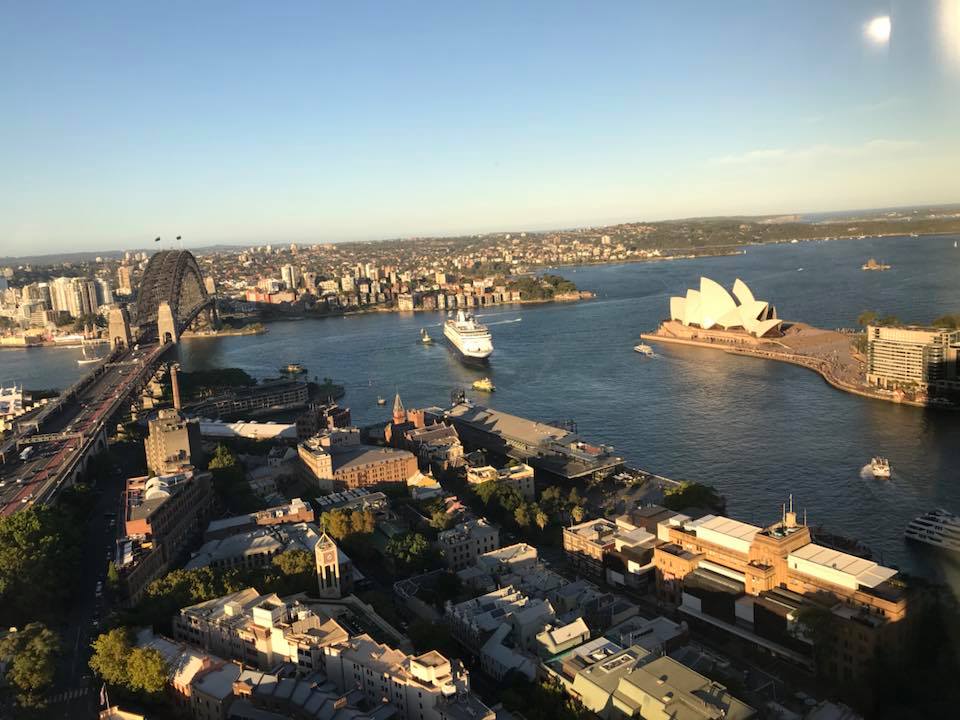 –
January – Dinner at the spectacular Shangri La restaurant in Sydney. AMAZING. 

February – A day out at Warwick Farm races and the brand new William Inglis Hotel. Very enjoyable. 

March –

Portbar restaurant at Parramatta wharf with a fabulous bunch of girlfriends

April –

North beach Pavilion restaurant in North Wollongong. Pizza, salad and the most amazing Nutella, ricotta donuts that you have ever tasted. 

May – I found a new local café called Bellbird café at Casula Powerhouse. I love this place. Veggies grown fresh there in the garden. I even picked up an old Stephen King book at the street library. This helped with goal number 7.

June – Spice Alley!!! OMG I love this place.  A 5 minute walk from Central station and I felt like I had stepped into another world. I highly recommend checking it out.


–
–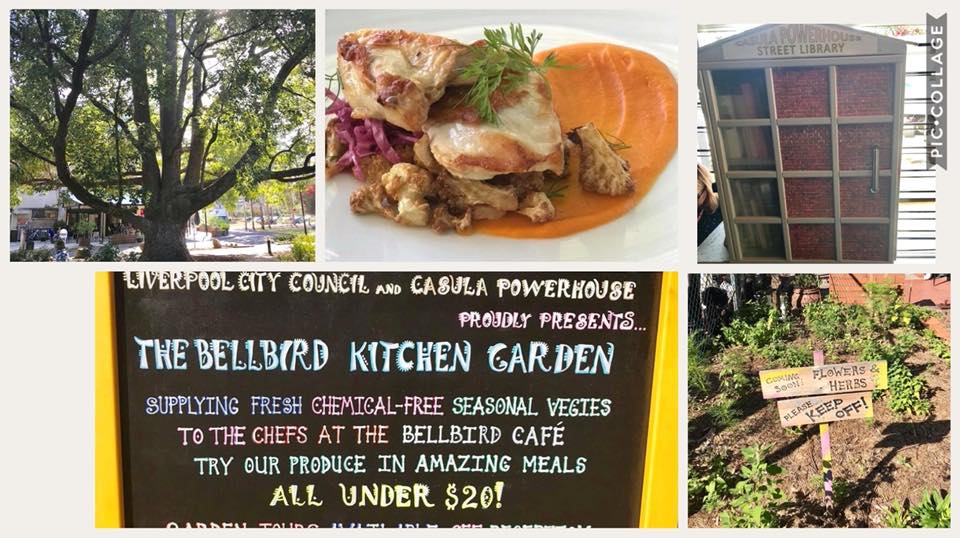 May – Bellbird Cafe – Casula Powerhouse
–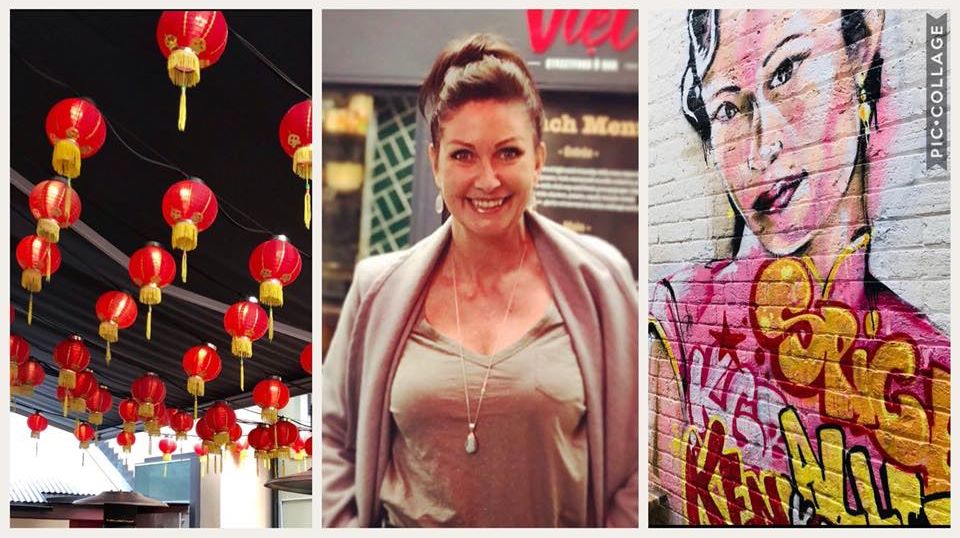 June – Spice Alley
---
.
6) Find 1 new hobby or class
Either a new exercise class that I LOVE and look forward to, or a dance class, or something similar.
January  – nothing to report

February – Yay, I am attending a new lunchtime fitness class at one of my local gyms. Loving it.

March April

and May

– FAIL .

I really need to get my butt into gear with this one

June – As mentioned in goal 1, I have joined a new gym. I am loving being a class participant again in the old school high energy classes. I am in my happy place when I am jumping around like a maniac. I am giving this goal a big tick.
–
---
.
7) Read more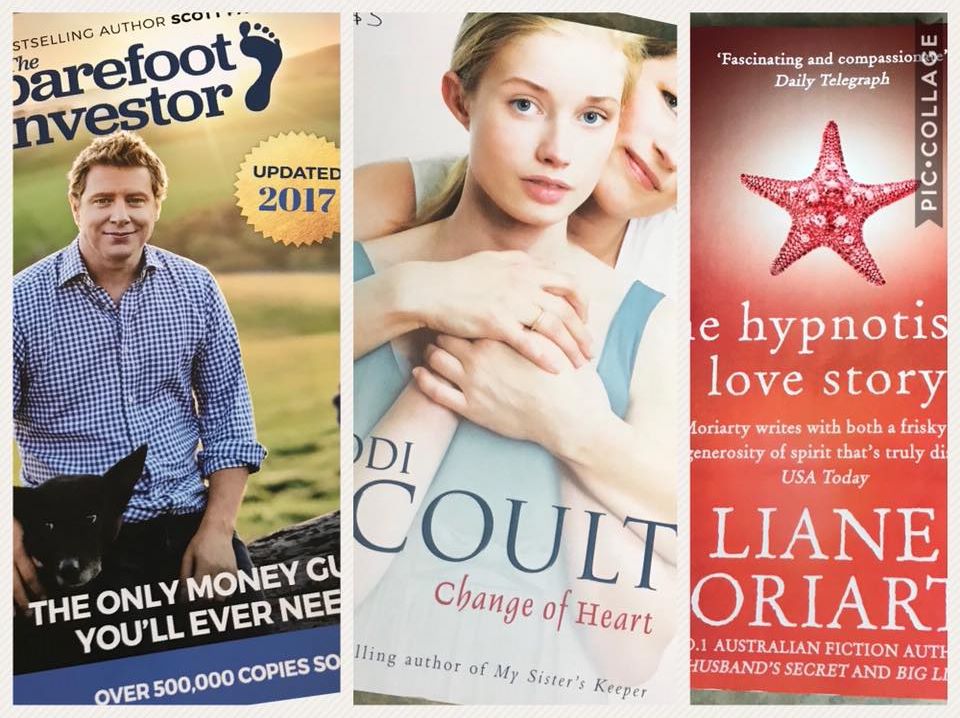 –
January update – read one fiction from Liane Moriarty, read The Barefoot Investor book (non fiction, but LOVED it), about to start Jodi Piccoult. 
February – Watching the terribly trashy Married at First Sight whilst group messaging my closest girlfriends. The show is train wreck TV. Virtually chatting with my besties whilst watching is hilarious. Also reading "Run like a girl" ), great so far. 

March and April –

Stephen King short story book that I LOVED. Plus an "erotic fiction" that I found BORING. (didn't finish it)

May – Stephen King – The girl who loved Tom Gordon. Got it free from a street library. How cool! I must remember to return it so someone else can read it next.  Also joined a book club (which may or may not be another name for wine club 😉 Currently reading The whole bright year. Enjoying it.

June – I read and LOVED "The book seller". Think Sliding Doors set in a 1960's bookshop. I'm also reading Lucky Bitch written by a friend of mine, the wonderful Denise Duffield Thomas. How exciting!! Denise helps people overcome money blocks so they can create a life they love. 
–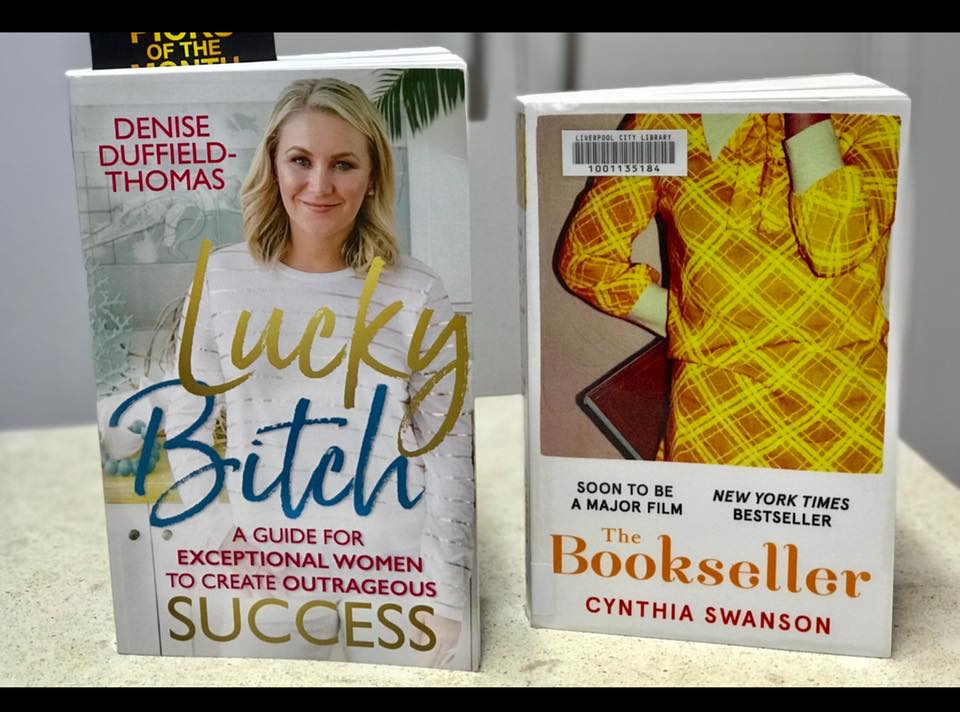 June books – Lucky Bitch and The bookseller. 
---
.
8) Continue to attend my Sunday morning joggers club
However, I have no goals to improve my time or distance. I simply want to go and enjoy it. Yes, granted, my fitness and time will probably improve from simply being consistent each week, but its not a driver for me.
January – Regularly attending and enjoying joggers club.

February – Oh no. Just one Sunday attended in Feb. I would be lying if I said I was too busy. Too many Saturday nights out is more honest.

March April 

and May

–

I score myself 5/10 for this. Attending roughly every second week. I'm ok with that.

June –

My new gym classes have replaced joggers club for the Winter. I would rather be at an indoor class at 9am on a Sunday morning, than outdoors at 7am. Am I a big chicken? Yes I am.

 
–
---
 .
9) Wear jewellery
This might sound like a weird one.
As you read in point 3, I like to make jewellery, I also like to buy jewellery. Problem is I make and buy way more than I wear.
I want to wear and enjoy my beautiful sparkly jewellery more often this year.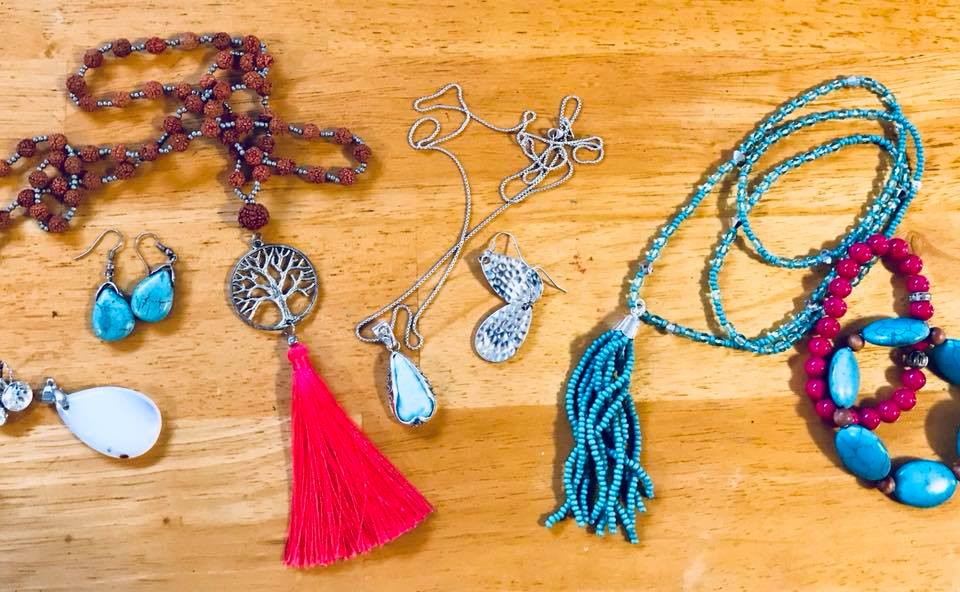 January  – I give myself a 4/ 10 for this one so far

February – Still making more jewellery than wearing it 🙁 

March, April

and May

  – I've actually been doing this. 🙂 

June = Meh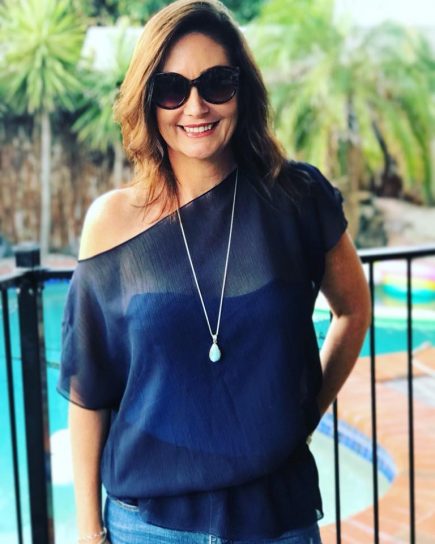 –
---
.
10) Catch up with my girlfriends regularly.
This was also a theme for 2017. The online world is great, but there's nothing like being in the same room as your besties, laughing and connecting.
Jan update – big tick here. 🙂 

Feb – Yes!! Both virtually and in real life. Woohooo 

March  and April –

yes, yes, yes.

 

May – YES !! Got the girls together for a Royal Wedding viewing party. So much fun. We wore wedding headwear and PJ's. Drank champagne and had a high tea. 

June – Book club (aka wine club). Lunches at the local club, Spice Alley. Tick, tick, tick.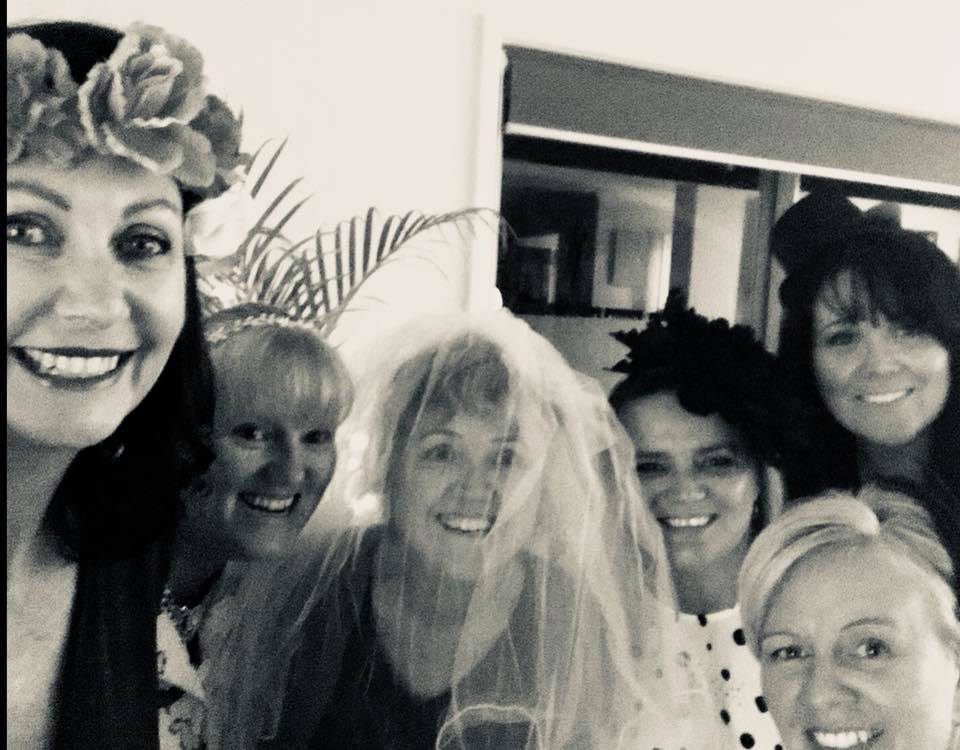 –
---
.
11) Law of Attraction
I have always been interested in LOA, this year I would like to lean into that a little more. ( I don't know what that means for me yet, but keeping my mind open to it).
I recently discovered a new LOA podcast that I love. I'm just going to follow along with it and see where it leads me.
January – still loving the podcast. That's all at this stage

February – Ok this is going to sound weird and woo woo, but I actually think some things have happened as a result of me thinking about them and / or  writing them down.
I have been writing down the following… 

I write or read it almost every day (as part of a big long list of other goals). Some days I feel like it will happen, some days I feel like I'm kidding myself, most days I write / read it and DONT EVEN THINK ABOUT IT.
Anyway, about a week ago someone I once worked with contacted me out of the blue and offered his services for exactly what I wrote. I'm not kidding! We have started the process of working together and if it works out as planned it will mean I finally get organised with my weekly emails delivering valuable information. You can sign up for those HERE by the way. 
–
March and April –

still working with the VA. Winning. 

May – See goal 15 

June – To be honest I didn't focus on LOA this month. 
–
---
.
12) I want to write a book or film a video series – How to lose weight without going on a diet or giving up any of your favourite foods
January update – I have a rough draft of the first 4 chapters. Happy with that. 

February – NOTHING MORE 🙁 

March and April –

I created a video course. Fat loss success Master-class. You get it free with every

coaching program of mine you purchase. 

–
---
.
13) Go to somewhere outside of the house to work, write blog posts.
I work from home. It can be challenging to get into a routine and not get distracted. I am going to trial a weekly routine where I go to a specific space for a set amount of time with my laptop and get some damn work done.
January  – One Macca's visit done which actually resulted in a blog post getting finished. (its been a while). 

You can check out

Kym's weight loss success case study interview HERE 

February – I have been going to my local pub instead. Its walking distance from my new home.

I got THIS blog post complete >>

How Mel lost 10kgs in 60days by giving up alcohol

March and April

and May

–

still working from the pub every fortnight or so. Enjoying the change of scenery.

June – Oh wow, I haven't written a new blog post in ages. 
–
---
.
14) Go on a Winter holiday to somewhere warm
This is essential for a Summer loving girl like me.  I don't have any definite plans as yet. Maybe the familiar (and cheap) Bali, maybe somewhere new.
YES !! Bali is booked for July school holidays. Woohooo
–
---
.
15) Community, team, involvement, contribute, more face to face connection
In 2017 I realised I was craving more face to face connection. More chance to contribute and make a difference. On a whim I put a letter on the desk at my local gym. I received a phone call the next day and I started working there a few days later.
I had big dreams and plans to run workshops, classes, programs and so much more.
BUT…
Little did I realise that the current owner was in the midst of selling the gym. Nothing turned out as planned and I was left with a bit of a bad taste about the whole thing to be perfectly honest.
In 2018 I would like to be part of a team, contribute, help more people, be involved in something, connect face to face more often. I don't know if that involves getting a JOB (I have some issues with that word), or if it will be something different. I am putting it on my 18 in 18 list and I'm open to opportunities.
Jan – nothing to report 

Feb  – More details to come next month 

March and April –

still working on this

 

May – I have joined the local lions club. Before you ask, no its not full of  mature age retired men. Its full of awesome women who get together to help the community. Its early days, but loving it so far. 

June – Oh no, I am rethinking the Lions club. I'm not sure its for me. Aaaaahhhh. Decisions to be made. 
–
---
.
16) Continue my Saturday Sweat Session class
Saturday face to face group fitness session is always one of the highlights of my week. Meeting up with like minded peeps for a workout, lots of laughs, support and connection.
In the beautiful surrounds of Chipping Norton Lakes.
8am every Saturday
Just $12 casual visit.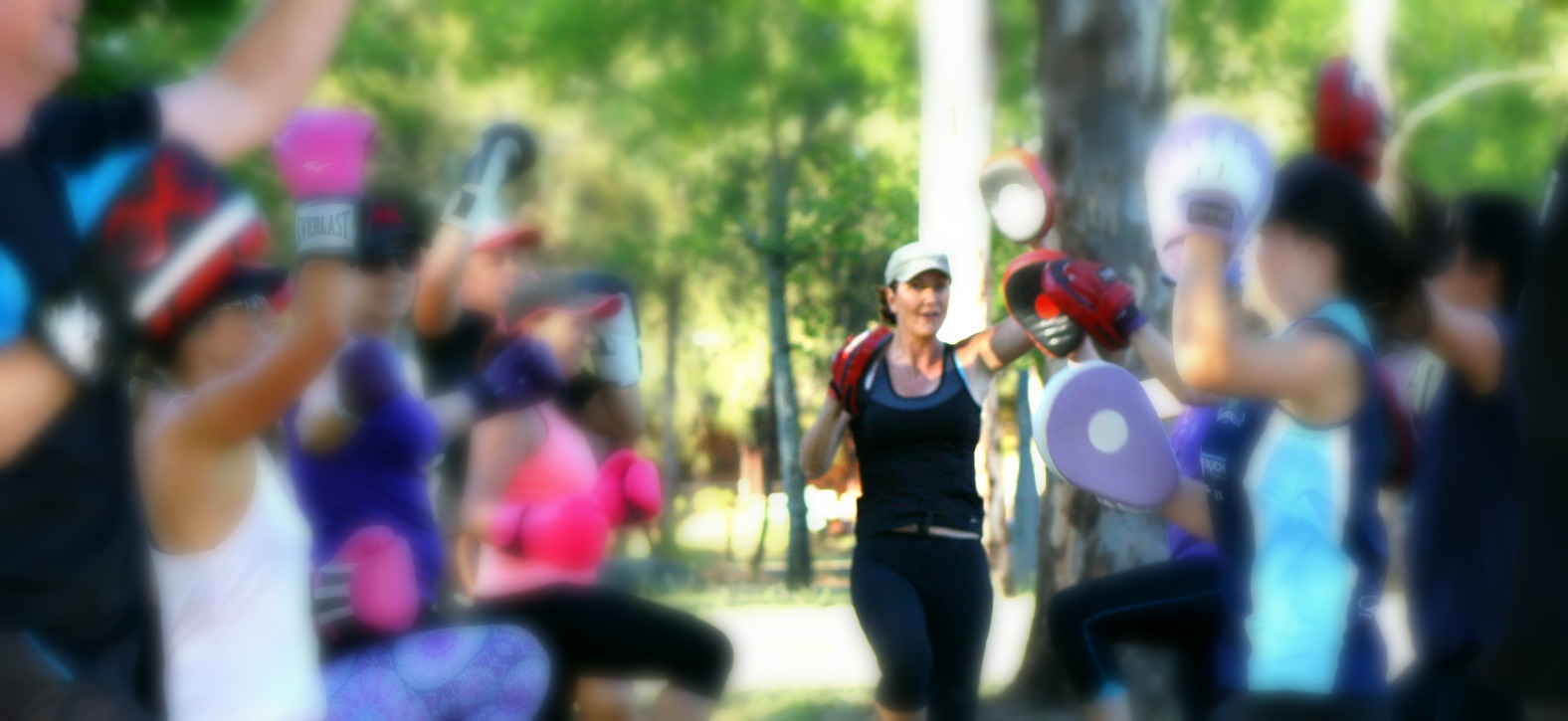 –
---
.
17) Offer a new class on Saturdays
I would love to offer a brand new class with a different theme on Saturdays at 9am.
Jan  – still deciding on this one..

Feb – decided to resume my Tuesday morning class instead (at this stage). The first class ran this morning (6th March). I loved it. I have missed my Tuesday ladies so much.  Details to join HERE .  However I haven't ruled out starting something new on Saturdays at 9am too. 

March and April – Still enjoying Tuesday classes 

May – Walk N Workouts on Saturdays 9am are starting 28th July. Woohooo, pretty excited about this. I believe there is a big gap in the market for an easier, beginner style workout option. This walking workout is a perfect intersection between a walk and a full body resistance workout. 

June – Looking forward to starting Walk N Workouts on Saturday's at 9am. Gotta get my butt into gear for advertising and sign ups. 
–
---
.
18) Coach 150+ people to achieve their health and fitness goals

–
---
Overall update – Writing these goals down and checking on them once a month has been so helpful to keep them top of mind. Its so easy to slip into a normal (and boring) routine without reminders every now and then.
Chriss