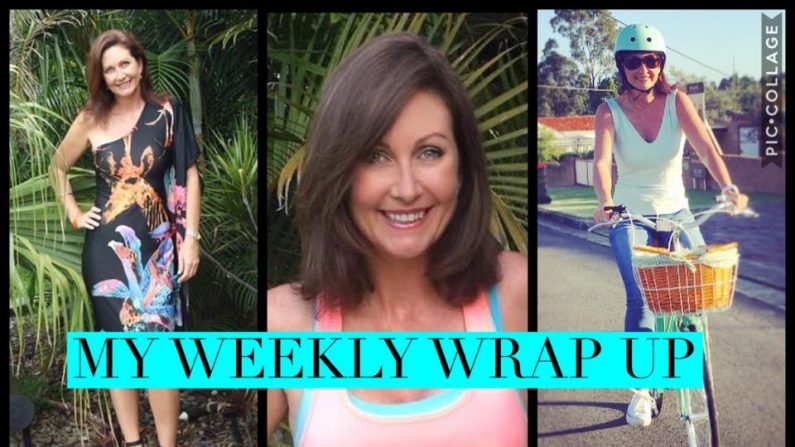 –
This is something new I am trialling…
Posting a personal wrap up of my week.
Its purely for selfish reasons, so I can document my week, get my thoughts out in black and white to make them clearer, remind myself to focus on the best bits and set some new intentions for the upcoming week.
Feel free to have a sticky beak into my world or completely ignore it.
Here goes…
—
Random personal fun stuff
Got my hair and eyebrows dyed darker. I am NOT sure how I feel about it. Check it out in this FB live video (so weird seeing and hearing yourself on vid).
Side note – the eyebrows are much lighter after just a few days. Phewwww.
(I warned you this was a personal and random post. Ha ha ha)
—
I got a pretty green bike and have been going for short (20 minute) bike rides in the afternoon. Enjoying it, I wouldn't saying LOVING it. Sore and tender underneath bits so far (Sorry TMI).
—
Had a beautiful Thai lunch out with some girlfriends on Friday. (sorry we didn't take any pics)
Saw Beauty and the Beast with Holly. SO GOOD
Pranked my face to face fitness class on April fools day. You should have seen their faces when they read the super hard class instructions. LOL
—
I have been journaling again first thing in the morning. Its probably what prompted this weekly wrap up post
April fool pranked my Facebook page fans too
—
Had a kids Easter hat making day at my place. My daughter Holly was in charge of the little ones, boy was she in her element.
—
I have been a bit light on the exercise front this week. Better fix that next week
I had been holding out til April to have my first hot cross bun. Delish!
—
---
Work stuff.
So much great activity happening over in my closed coaching group. Supporting each other, sharing wins and struggles, learning SO MUCH (un-learning too).
Here are some of the awesome client results achieved this week..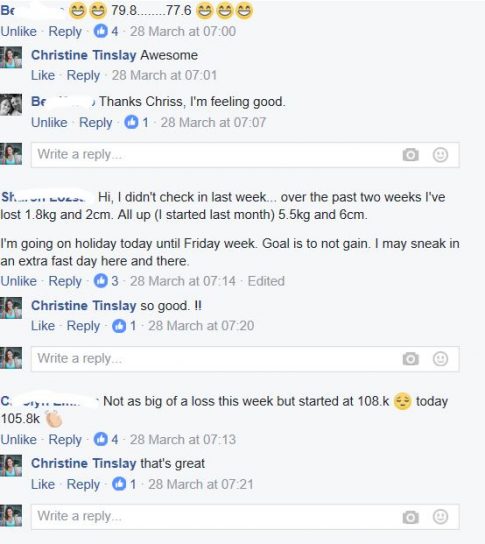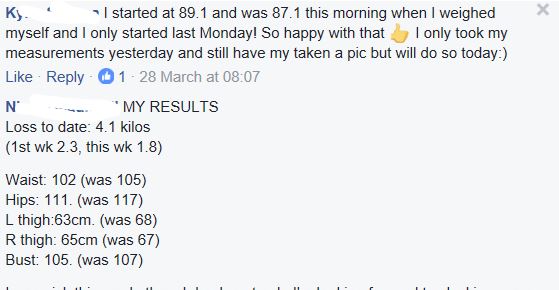 —
Side note –
If you would like to achieve weekly weight loss results like the above, I am accepting 5 more coaching clients before the price doubles very soon. Please message me on my Facebook page or email me at Chriss@ChrissTinslay.com if you would like to learn more.
---
–
I wrote 2 blog posts
(Its been a while. Gotta get back into the regular swing of things and do this more often)
Check them out and let me know what you think.
—
---
–
Intentions for upcoming week
Keratin hair treatment. 1st time. I am a bit nervous it will be too straight and flat. We'll see.
More bike riding
1st Yoga session on Thursday lunch time (dry weather only). To be honest I am a little nervous. I am stiff as a board, I know yoga is something I should do, but its not something I am really looking forward to. I will report back in on this one.
Approaching some local cafe's about holding a face to face weight loss master class workshop. This has been on my to do list for ages. I don't know why I have been so chicken
Weekly Walk and Wine with my good friend Nik.
2 gym weights sessions
Case study blog post – Sharon's weight loss success story and how she is improving her Insulin Resistance
—
---
Want more help with your fitness and fat loss goals?
Check out my very latest coaching program.
All of the education, motivation and inspiration you will need to FINALLY reach and MAINTAIN the health and body you desire.