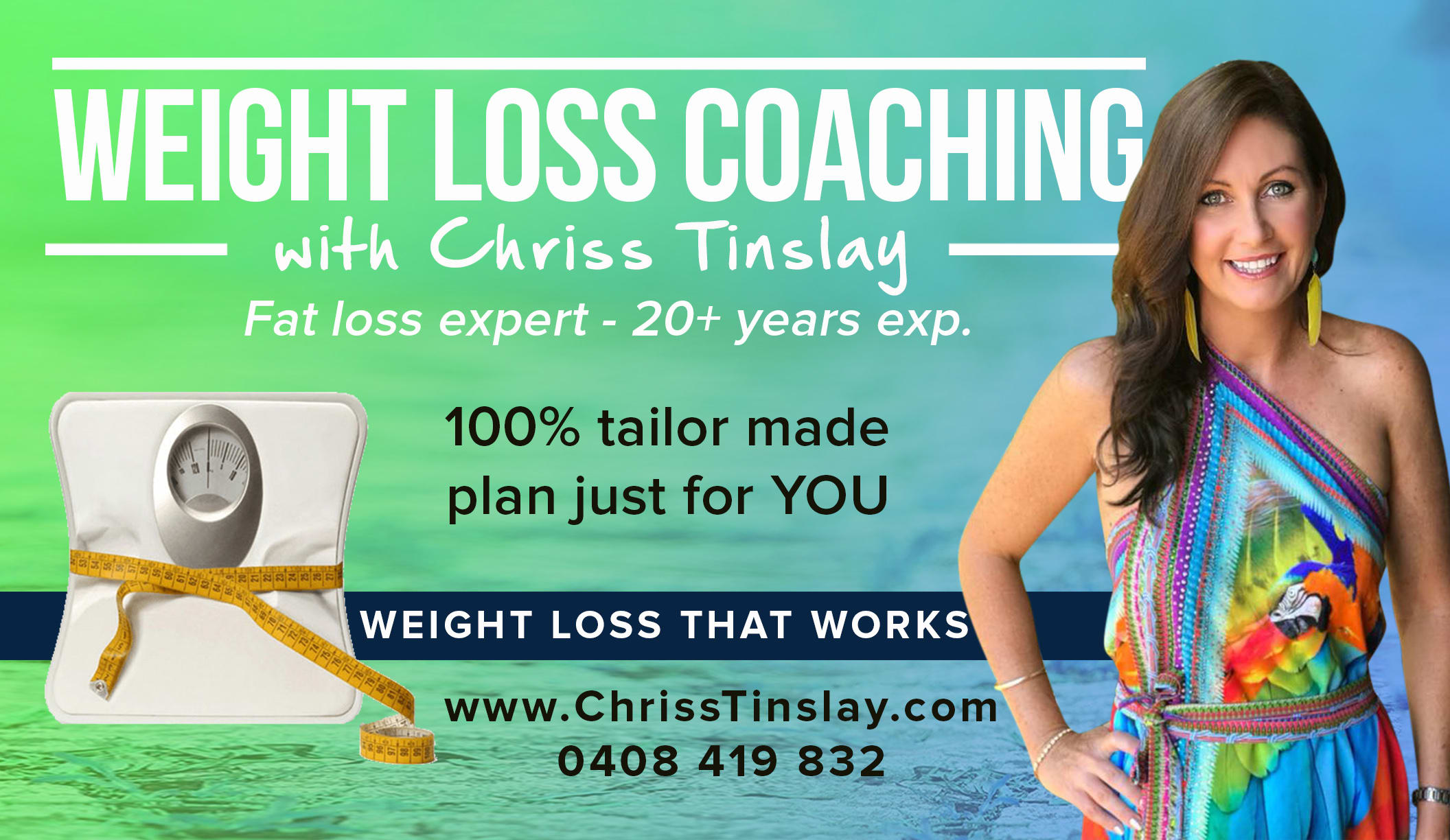 –
Are you ready to quit dieting and lose weight for good?
In a healthy, sustainable way.
–
Let's face it, weight loss can be hard.
Sometimes you need extra support and guidance from a professional.
–
–
Introducing …
Personalised health and weight loss coaching
with health and weight loss expert – Chriss Tinslay
20+ years experience
–
–
Each week we will meet up virtually via phone, Skype or FB messenger (your choice). We will strategise your plan that gets RESULTS for your upcoming week.
Focus will be on MEALS, MOVEMENT, METABOLISM and MINDSET.
–
Weekly coaching sessions are 100% tailored to the individual.  This is not a cookie cutter online program.
This is NOT about following a strict meal plan and hard core exercise program.
This is about changing your daily habits and your mindset so that you eat, move and THINK like a naturally slim person.
.
You will also receive DAILY ongoing support via a closed and private Facebook group.
–
–
Isn't it time you FINALLY gave up on fad diets and quick fixes?
Learn how to lose weight and KEEP IT OFF, in a healthy way that's sustainable for the rest of your life.
–
–
MEALS
There is NO set meal or diet plan to follow.
Strict meal plans = short term diet mentality.
Instead we will tailor make a plan each week using the foods you enjoy and feel normal to you, they may need a few tweaks and improvements however.
We will look at your natural hunger patterns and work with those to make your plan easier to stick to.
We will determine your non negotiables and work around those.
We will change and improve your daily habits.
#HabitsNotDiets
–
–
The best diet is the one you can stick to long term.
–
–
MOVEMENT
Each week we will devise a plan on how to move your body in a way you enjoy (or at the very least, don't hate).  In most cases hard core exercise sessions are not necessary unless you love them. This is simply about moving more and sitting less.
–
–
METABOLISM 
Did you know, a lot of fad diets and quick fix weight loss methods cause your metabolism to slow down, meaning you need to eat less and less in order to keep the weight off.
Your plan will include METABOLISM BOOSTING actions, making it so much easier to maintain a healthy, happy weight long term.
–
–
MINDSET 
A healthy positive mindset is the most important factor in regards to your health, body and fitness.
After all, its no use having the most effective program if you cant or wont stick to it. This is where most of our time and effort will be spent.
Using ACT – Acceptance Commitment Therapy strategies, you will learn tools and techniques to get yourself to take action regardless of if you feel "motivated" or not. We will also tame the negative self critical voices in your head.
–
–
Exercise and eat well because you LOVE your body,
not because you hate your body and it needs to be punished.
–
–
RESULTS 
No guilt.    No quick fix.    No BS.    No pills.    No supplements.    No extremism.    No perfectionism.    No diets.
Just healthy, sustainable actions that ensure RESULTS.
–
–
Free bonus upon starting
Fat Loss Success Master-class – Value $97

–
FAQ's
Q. I don't get it, how can we do weight loss coaching over the phone?
How will you show me the exercises to do?"
–
Listen I get the confusion.
But please know, exercise is such a small part of the health and weight loss equation.
–
I do both types of coaching.
I am a personal trainer, doing 1 hour exercise sessions with clients.
We do exercises together, we work all muscle groups. My clients huff and puff and push their comfort levels. Its usually 1 hour out of their 168 hour week (or sometimes 3 hours a week, depending on the client).
Very little weight loss result come from this small part of your week. But lots of wonderful strength, fitness, health and mood improvements do.
Yay.
—
—-
I am also a weight loss coach (yes the 2 things are different)
With weight loss coaching we discuss and plan for the other 165 – 167 hours of your week.
(where most of your weight loss results will come from)
* Meals
* Movement (separate to exercise)
* Mindset
* Motivation
* Metabolism
* Sleep / Stress
* and so much more
–
Q. Shouldn't I be able to do this on my own?
A. Listen, even though you might know WHAT to do in order to be healthier and lose weight, my guess is you cant seem to get yourself to do it (otherwise you wouldn't be reading this page).
Its OK to ask for a little help and guidance from an expert.
I mean someone could choose to learn tennis or piano by reading books and researching articles on the web, OR they could spend some quality time with an expert coach and short cut the whole process.
–
Q. I don't think I can afford it.
This is NOT the type of program where you need to spend money on fancy foods and meals. Most people save money due to eliminating some of the little unnecessary extras.
Not to mention the cost of missed life experience because you continue to focus and stress about your weight loss goal, yet never achieve it.
There is a weekly investment in yourself to pay, that will last you the rest of your life.  I believe you are worth the investment.
Lastly, let me say this, people that pay for coaching are MORE likely to achieve it than those who don't. They take it seriously. They don't want their payment to be a waste.
–
Q. I'm tired of starting things and not finishing them..
That's precisely why you need a personal coaching session each week.
–
Q. I have tried so many diets and programs, how do I know this will work?
I understand. There is a LOT of BS out there in the health and weight loss world, it makes me so mad. That's exactly why I decided to help people just like you cut through all the crap and stop wasting time on the unnecessary actions that get little to no results. I have had 20+ years experience coaching real people to achieve real, long lasting results. I know its a leap of faith, but if you are willing to put in some time and effort to change your habits and mindset, then I would love to be the one to help you.
Chriss
–