I take this healthy Mexican dip to pretty much every party I attend. I always include lots of cut up fresh veggies to serve with it.
I am a sucker for party food. I often mindlessly and continuously eat whatever is in front of me. Which is usually not the best choice for weight maintenance and health.
If I am going to mindlessly eat, I might as well be snacking on fresh veggies with dip.
Ingredients
Whole tub of 500gram tub of Pantalica smooth light ricotta ( I only like the smooth one )
One packet of taco seasoning powder
One tin of Mexican refried beans 99% fat free
Mix together in a large mixing bowl
I get 2 large serves of dip from the above amounts.
I put one half back into the empty ricotta tub so that my family and I can snack on it over the week. I spread the other half into a shallow serving dish that is at least the size of a dinner plate, if not bigger.
Top that mixture with the following..
diced tomatoes
a small amount of grated lower fat cheese
diced shallots  **TIP – Plant the bottom part of the shallots into a pot of soil,  water them regularly. They re-grow quickly and easily, ready for your next dip. 
Serve with lots of cut up fresh veggies.
Carrots, celery, beans, capsicum, cucumber, snow peas.
—-
I used to take a packet of corn chips as well because I thought I "should" provide it.  I stopped doing that a while back and no-one complained. The dip and the veggies always get eaten and everyone is happy.
The dip itself is a little high in sodium, but this is a party food and I am pretty happy with eating it every now and then with my veggies.
I hope you will give it a try and take it to your next party too.
Enjoy.
Chriss
---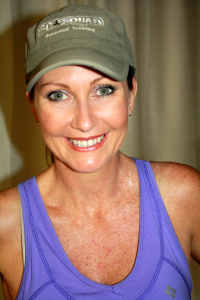 With almost 20 years experience, Chriss Tinslay is one of Australia's leading Personal Trainers.
Chriss started her career into the fitness and personal training industry in 1994  as a receptionist at the local gym she attended and loved.
She quickly went on to become qualified and registered as a Master Trainer with Fitness Australia. Chriss has now helped 1000's of people transform their bodies and lives.
Chriss has appeared in the biggest loser DVD series, Mornings with Kerri-Anne and has written her first short book "15 weight loss secrets that you need to know".
She now runs regular face to face and online fat loss coaching programs.
Chriss believes that fitness and fat loss should fit into your fabulous life, NOT take over it.   You can connect with her on Facebook where she shares useful tips each and every day.
---
Related posts