Have you ever gone on a "healthy eating plan" and not lost any weight?  Maybe you even put on weight?
This could be the reason why…
Is healthy food making you fat?
Over eating healthy food is still over eating and will result in you gaining weight.
—–
Sally's story
Sally eats…
A healthy, organic granola breakfast with fruit and low fat yoghurt. (500 calories)
Cold pressed fruit juice (200 calories)
A large "clean" lunch of chicken salad with dressing (500 calories)
Low fat, super food banana smoothie (500 calories)
Gluten free, healthy dinner (600 calories)
Clean, Paleo treat with no refined sugars **because she has been so "good" all day (450 calories)
Sally's total daily calories = 2750
Sally puts on weight and wonders where she went wrong.
—-
Does this mean that Sally needs to count every calorie IN and OUT?
No, I personally don't think strictly counting everything is necessary. However a little awareness goes a long way.
Just like managing your money budget to ensure that you don't spend more than you earn… Most of this can be achieved with awareness, good habits and routines.
—–
What's the answer?
Can we live off junk food to lose weight, as long as we stay under our calorie limit?
I wouldn't recommend living on junk food to lose weight. Even though its possible, as in this example – Junk food diet 
This is just a gentle reminder (to myself actually), that both quality and quantity are important for weight loss.
—-
Want to more help with reaching your goals?
Find out HERE how I can coach you to get fitter, leaner, healthier and happier.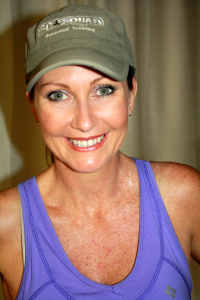 ---
With almost 20 years experience, Chriss Tinslay is one of Australia's leading Personal Trainers.
Chriss started her career into the fitness and personal training industry in 1994  as a receptionist at the local gym she attended and loved.
She quickly went on to become qualified and registered as a Master Trainer with Fitness Australia. Chriss has now helped 1000's of people transform their bodies and lives.
She now runs regular face to face and online fat loss coaching programs.
Chriss believes that fitness and fat loss should fit into your fabulous life, NOT take over it.   You can connect with her on Facebook where she shares useful tips each and every day.
---