Do you ever feel like your mind is FULL, but your 

soul is depleted?
Do you feel exhausted from the never ending chatter inside your head?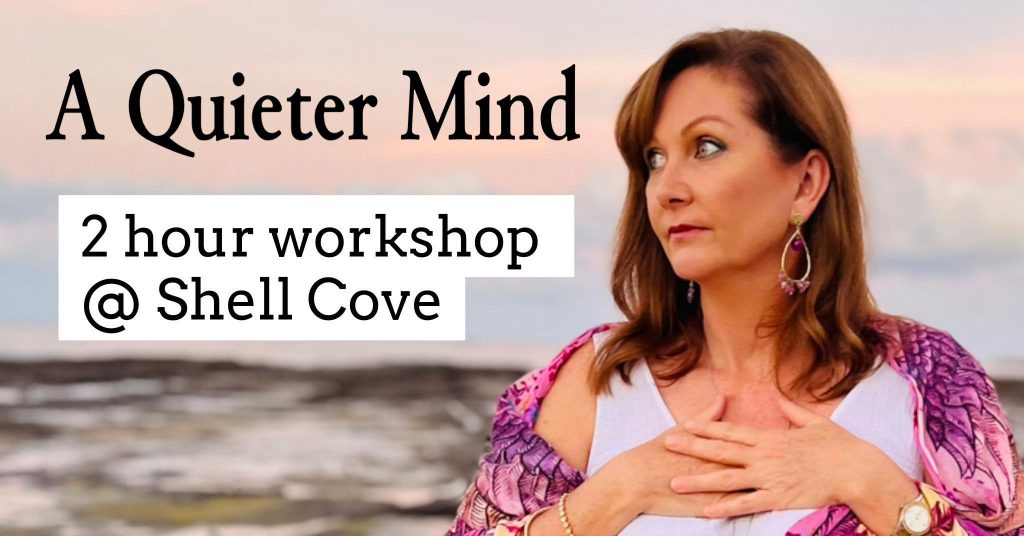 Tuesday 6th Dec 
 6pm – 8pm
Are you ready to…  
Improve your mood

Calm your busy mind

Increase confidence

Cultivate connection with yourself and like-minded new friends.

Release anxiety, worry and stress.

Live in and enjoy the present moment more.
A Quieter Mind @ Shell Cove
This 2 hour practical and interactive workshop is the solution for over-thinkers, self doubters and procrastinators.
You will learn simple and proven mindfulness tools, lessons and techniques to quieten your busy mind, feel calmer, happier and more peaceful. 
**Group numbers are kept small and personal so participants can receive guidance for individual issues. 
It's time you put yourself first 
You can't pour from an empty cup
WHY
To fill your self care tank, so you have the mental energy and confidence to live the joyful life you deserve.

T

o learn effective tools and techniques to calm your mind, be happier and more positive. 

To

 connect back in with yourself and others. 

To receive much needed support, connection, help and motivation.
WHO
This session will be perfect for you if you can relate to any of the following traits AND if you're finally ready to release them…
Self critical

Over-thinker

Empath

People pleasing

Over giving

Anxious

Lonely

Indecisive 

Procrastination
Cost – $44
2 hour session  
–
WHEN 
 Tuesday 6th December. 6pm – 8pm
WHERE
A private residence in Shell Cove. Full details will be provided after payment.  
Why not bring a friend to learn together and support each other?
"If you know of someone who may benefit from this experience, I would so appreciate you sending them this information to join."
Chriss.
"Talk about stepping outside your comfort zone. I would have never had the courage leave a job that I hated and to follow this new career path if I had not found Chriss and her mindfulness classes. The lessons along with the amazing support of the other group members has given me the courage I needed to chase my dreams."
I have spent the last 3yrs going the LONG route….just to avoid the tunnel.I avoided all confined spaces including lifts, because I couldn't control the panic. After learning some toolbox tricks from my first session, I was able to put them to good use and be driven through the tunnel as a passenger. By my 4th class, I had successfully driven the tunnel alone, a number of times. 
Stop trying to fix yourself because you're not good enough.
Start caring for yourself because you're already amazing. 
About Chriss Tinslay – your mindfulness mentor
Chriss Tinslay is a fully qualified and experienced Mindfulness coach. She has helped 100's of over-thinkers feel calmer, happier and more confident. Chriss has studied under the renowned Gawler Institute and Russ Harris of the best selling book The Happiness Trap. 
She is the creator of the wildly successful course Mindfulness for Over-thinkers.  Chriss prides herself on making mindfulness super easy and practical. 
While working with all walks of life including pre-teen girls,  her dream clients are self critical women who are tired of putting themselves last, beating themselves up and self sabotaging their dreams and goals.  
Why? Because she use to be one. 
Chriss believes looking after your mind is just as important (if not more) than looking after your physical health.
When not teaching mindfulness classes and women's circles, you will find her hanging out with her family and friends, walking her Pomeranian dog Timmy, listening to 80's music or laughing out loud to re-runs of Kath n Kim. 
–
Frequently Asked Questions..
"Learning how to calm my mind has not only benefited me, it's had a big flow on effect to my family, especially my kids. I'm not so stressed out and reactive.  I've learnt how to pause, take a breath and deal with things in a more peaceful way. My kids tell me I'm a nicer mum these days."
Kerry 
–