Five Point Four is a healthy meal delivery service that does all of the planning, preparing and cooking for you.

 
We all know that meals cooked from scratch with fresh ingredients are the best option for health and weight…
BUT
We can't be perfect all of the time (well I sure can't).
I like to focus on PROGRESS not PERFECTION.
I know that we are all time poor and stressed out these days. This meal delivery service is a fantastic option for busy people with little time to cook, plan and prepare fresh, nutritious meals.

——
Why is Five Point Four different?
How can it work for you and your health and weight loss goals??
——-
Pro's
———
The meals taste great.
This was a MUST for me. I don't care how perfect the meal is, if it doesn't taste good, I am not going to eat it. Now don't get me wrong, fresh home cooked meals are tastier, lets get that clear. But these are the best tasting frozen meals that I have ever tried. I look forward to eating them. (So important). Butter chicken is my favourite so far.
High in protein and vegetables
Unlike a lot of the major players in this field, Five Point Four meals are primarily based on protein and veg. If you have read my free weight loss cheat sheet, you will know that we need  the below 2 steps for fat loss success.
 Burn up more calories than you consume
 Ensure you get adequate protein so that the lost weight comes from fat and not muscle (and it keeps you fuller for longer too. Bonus)
Five Point Four meals covers both of these steps nicely.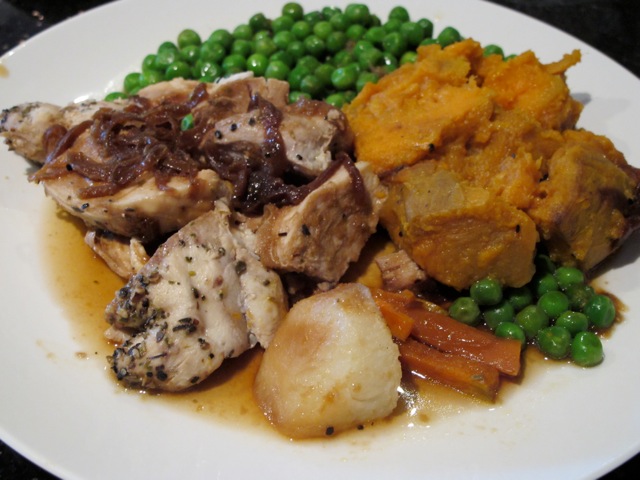 Convenient / Time saving
Ok, this is stating the obvious, convenience is what a meal delivery service is all about . But I wanted to point out what you can do with the time and also mental focus that you now don't need to spend on food prep and planning.
Spend more time moving and / or exercising. Hence helping you achieve your goals faster.
Less thinking and stressing = less willpower being used. Which means more willpower left to focus on other important aspects
Having fun. Let's not forget about that. 🙂
Relax and recover. Exercise is a stress. Stress + adequate rest and recovery = results. Stress + Stress (with insufficient recovery) = disaster. More time to rest and recover will help you to achieve your goals
No guess work
This is HUGE and worth the cost alone as far as I am concerned.
We all know that all weight loss works by burning more calories than you consume. You do your best to stick to a plan and be calorie aware. However truth be told, you can only ever estimate your intake. You are really never 100% certain.
This program takes all of the guess work out. Stick to the plan and weight loss results are almost guaranteed. (I say almost, because results may not happen if you have medical conditions, compromised hormones or you are on medications that hinder weight loss).
Lower in carbohydrates.
Because these meals are lower in carbohydrates, it means you can include some carbs in your other meals and know that you won't go over your daily limit. You could even include a small serve with some of the meals to fill you up more (one small slice of grain bread would be perfect).
Carbohydrates are usually an inexpensive choice, so you will only need to spend a couple of $ more per week to include this.
On the other hand, if the meals were low in protein (like most of the major meal delivery services), the cost of adding adequate protein to your meal would be substantial.
Choice of weekly or fortnightly
This means you don't have to replace all of your meals if that's what you prefer.
——
Con's
——
Price… sometimes.
I don't want to beat around the bush here. In most cases it costs a little more to have someone else plan and prepare your meals for you than it does to do it all yourself.  On the other hand, these meals are cheaper than a regular take away meal. If you often purchase take away or restaurant meals, this plan will save you money.
I am happy to pay a little more for the convenience and the hard work done for me.
This video points out how much it would cost you to cook these meals from scratch
–
 Space in your freezer.
I am lucky, I have a second fridge and freezer. It was easy to store a weeks worth of meals. However, if you have limited space, this might be something to think about.
Choice
You don't get to choose your meals. The 5 meals for the week are pre-determined on a 4 week rotation. I haven't had a bad one yet though.
They don't deliver to all regions as yet 
Check the website details to see if your location is covered
—–

---
—
---
3 ways you can use this (or any) meal plan for weight loss
—–
Phase 1 –
Replace 3 meals per day with the pre-prepared meals. ** Note. When I say "meals" I mean snacks too.
This leaves one meal that you will prepare for yourself. You could choose an easy, healthy breakfast choice, or a small healthy dinner if you would like the family to all eat the same food at dinner time (and if you have to prepare it for them anyway).
Phase 2 –
Replace 2 meals (including snacks) with the pre-prepared meals. I urge you to replace the meals that are usually your poorest choice. I don't know about you , but I am pretty organised with my breakfast and I usually prepare a healthy dinner for the family. I sometimes struggle with lunch and 3pm. These are the 2 meals I would choose to replace. What are the meals that you struggle with?
Ordering per fortnight would be ideal for this.
Phase 3 –
Simply replace 1 meal (your poorest choice meal ) with a pre-prepared meal. Sometimes this is all you need to push you in the right direction. If you replace a poor 800 calorie lunch with a healthy 300 calorie choice, that might just be enough to result in a calorie deficit for the day.
Ordering fortnightly and sharing with a partner would be ideal for this. This is what my hubby and I have been doing recently.
Would you like more help and coaching with your fitness and fat loss goals?
I would love to help you.
Chriss